Why 2012 movie is a hit in China
(Read article summary)
In "2012," Hollywood for once casts China as the good guy. But some critics say the movie simply reinforces stereotypes.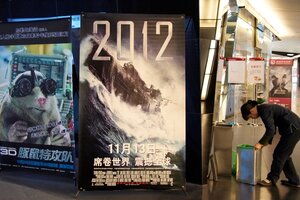 Ng Han Guan/AP
BEIJING – "2012" is No. 1 at the Chinese box office for many of the same reasons that it has been a smash hit in America. Apparently, spectacular special effects hold the same appeal on both sides of the Pacific.
The movie has already taken in $450 million worldwide, about $108 million since opening in the US 10 days ago, according to Box Office Mojo. (Dare one say that mass-market movie mindlessness is a global phenomenon?)
But the buzz in Beijing has a slightly different edge to it. For the first time that anyone can remember, a Hollywood blockbuster has cast the Chinese as good guys. (The giant arks that will save humanity from an end-of-days catastrophe are Made in China.)
The idea that China will save the world from its economic woes is one that has been batted around by economists for some time now.
Beijing's 8.4 percent projected GDP growth this year will offset three quarters of the decline in the GDP's of the US, the Eurozone, and Japan, according to a World Bank forecast the other day.
---