Philippines massacre suspect turns himself in
(Read article summary)
Andal Ampatuan Jr. was flown to Manila Thursday for questioning over the killing of 57 political rivals. More Ampatuan clan members will face investigation in the southern Philippines massacre, authorities say.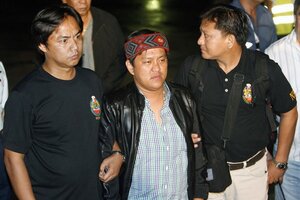 Romeo Ranoco/Reuters
The powerful Ampatuan family, suspected of involvement in a massacre of political rivals in the southern Philippines, took several blows Thursday as the investigation into the killings expanded.
Andal Ampatuan Jr. – the mayor of the town where the murders occurred, and a suspect in the case – surrendered himself to authorities. The ruling party of President Gloria Macapagal Arroyo stripped him and two family members of party membership. And authorities said they planned to investigate the entire Ampatuan clan.
Despite the actions, doubts persist as to whether President Arroyo will pursue justice against her political allies. The Ampatuans effectively control Maguinadanao province in Mindanao island, and delivered its votes to her in the last presidential election.
(Read the Monitor's report about the Ampatuan clan here.)
Also on Thursday, Filipinos held a day of national mourning for the 57 victims.
The massacre occurred three days ago, when supporters of Ismael Mangudadatu journeyed to register his candidacy for governor of Maguindanao. The current governor, Andal Amaptuan Sr., had been grooming his son for the job. As their political rivals traveled, 100 gunmen surrounded the convoy and shot everyone, including Mr. Mangudadatu's wife, Genalyn, his two sisters, and 21 journalists.
In a statement issued late on Wednesday, Arroyo's party, the Lakas-Kampi CMD, said it no longer considered Ampatuan Jr., his father, or his brother (another local governor) "members in good standing." It relieved them of their party duties, the Manila Times reported.
---