Russia train bombing: sign of new terror tactics?
(Read article summary)
Russia analysts say security forces are unprepared for terror attacks, like Friday's train bombing, executed by small terrorist cells.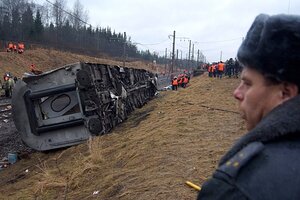 Konstantin Chalabov/Reuters
MOSCOW – The worst terrorist attack to hit the Russian heartland in five years was almost certainly engineered by Islamist extremists, who are increasingly active in Russia's volatile northern Caucasus region, say analysts.
On Friday, a luxury train, the Nevsky Express that runs between Moscow and St. Petersburg, was derailed by a bomb, killing at least 25 people and injuring almost 100.
Russian security experts say security forces here are not prepared for this new form of terrorism.
"It seems most likely that this attack can be traced to the northern Caucasus," says Yury Korgunyuk, an expert with the InDem Foundation in Moscow, an independent think tank.
"This explodes the official myth that the problems down there have been 'sorted out' and that terrorism has been finally dealt with. The fact is that our security forces have been engaged in everything but combating terrorism," he adds.
Andrei Soldatov, editor of Agentura.ru, an Internet journal that reports on security issues (an English-language version is here) says that Russia's security forces, at great cost, did manage to crush the large-scale terrorist operations mounted by Chechen terrorist Shamil Basayev, such as the 2002 siege of a Moscow theater, and the 2004 Beslan school assault, in which scores of terrorist commandos sometimes moved hundreds of miles to hit their targets.
---