Israeli settlers clash with police over construction freeze
(Read article summary)
Israeli settlers clashed with police Wednesday, angry over a West Bank settlement freeze announced by Prime Minister Benjamin Netanyahu.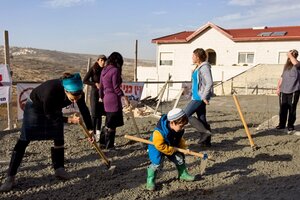 Sebastian Scheiner/AP
Violent clashes broke out between settlers and Israeli police over a temporary building freeze in the West Bank, escalating a rift between the government of Prime Minister Benjamin Netanyahu and religious nationalists – an important constituency.
Police arrested the mayor of one settlement who tried to block building inspectors from entering the town, Haaretz newspaper reported on its website. Settlers also threw rocks at Palestinians near the city of Nablus in protest, Israel Radio reported.
The inspectors have issued 64 stop-work orders in the past two days at construction sites where building foundations have not been completed, stunning settlers who say they had received government construction approval. The settler leadership council on Monday called on residents to participate in nonviolent civil disobedience. The council called a demonstration against the freeze for next Wednesday and said Mr. Netanyahu's decision was "a shameful capitulation to American demands'' and a "collapse of ideology.''
---
Follow Stories Like This
Get the Monitor stories you care about delivered to your inbox.