Norway spiral video: Mystery solved
(Read article summary)
That Norway spiral video? There was speculation that it was a UFO arriving to congratulate President Barack Obama, but the Russian Defense Ministry has a more plausible explanation.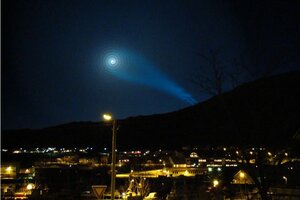 Anita Olsen/AP
A UFO? A Stargate style wormhole opening a path to other galaxies? The Aurora borealis?
A videotape of a strange spiraling cloud captured over Norway at dawn on Wednesday morning has had the Internet all atwitter (literally) with speculation as to its causes – everything from space aliens arriving to celebrate Barack Obama's Nobel Peace Prize award, to clandestine aviation tests.
Well, now it appears the mystery of the phenomenon, which bore some resemblance to a spiral galaxy, has been solved. Russia says it was the result of a failed test launch for its troubled Bulava missile program. In a statement, the Russian Defense Ministry said it fired a Bulava from a submarine in the White Sea near the Norwegian coast Wednesday morning. The intercontinental ballistic missile's first two stages worked perfectly, the ministry said, though the third stage engine proved "unstable."
---