Roses for Europe: Israel eases Gaza blockade to allow flower exports
(Read article summary)
In rare easing of Israel's Gaza blockade, flower farmers will export their entire harvest – some 35 million roses, carnations, and chrysanthemums – for the first time since Hamas took over in 2007.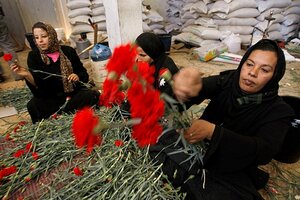 Ibraheem Abu Mustafa/Reuters
GAZA CITY – Flower farmers in the Gaza Strip exported a shipment of 30,000 flowers through an Israeli crossing on Thursday in a rare easing of the Gaza blockade that will see continued flower exports until the season ends in May of next year.
This marks the first time since the 2006-07 season that Gaza's flower growers, on a request local agricultural officials say was brought by the Netherlands to Israel's Defense Ministry, will export their entire harvest of some 35 million roses, carnations, and chrysanthemums to markets in European countries.
It is also one of the only exceptions Israel has made for exports from the impoverished Palestinian territory. Israel imposed a tight economic blockade when the Islamist movement Hamas seized control in 2007.
Key European supplier
Gaza was one of Europe's main flower suppliers before Israel halted commercial and agricultural exports from the territory. Gaza's last shipment of flowers was a truckload of 25,000 stems symbolically allowed out for Valentine's Day earlier this year.
Yusuf Shaath, the cash crops project manager for the Palestinian Agricultural Relief Committees (PARC), a local development organization that works closely with farmers, says the sector expects to earn $6.3 million with this year's harvest, after a near-total collapse over the past two years.
---