Text of Barack Obama's Nobel Peace Prize acceptance speech
(Read article summary)
Written speech delivered by President Barack Obama when accepting the Nobel Peace Prize in Oslo on Thursday.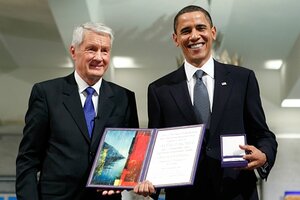 Bjorn Sigurdson/Reuters
This written text of President Barack Obama's Nobel Peace Prize acceptance speech was provided by the White House prior to its delivery by the President. The speech as delivered in Oslo, Norway Thursday morning may differ slightly from what is below.
Your Majesties, Your Royal Highnesses, Distinguished Members of the Norwegian Nobel Committee, citizens of America, and citizens of the world:
I receive this honor with deep gratitude and great humility. It is an award that speaks to our highest aspirations — that for all the cruelty and hardship of our world, we are not mere prisoners of fate. Our actions matter, and can bend history in the direction of justice.
And yet I would be remiss if I did not acknowledge the considerable controversy that your generous decision has generated. In part, this is because I am at the beginning, and not the end, of my labors on the world stage. Compared to some of the giants of history who have received this prize — Schweitzer and King; Marshall and Mandela — my accomplishments are slight. And then there are the men and women around the world who have been jailed and beaten in the pursuit of justice; those who toil in humanitarian organizations to relieve suffering; the unrecognized millions whose quiet acts of courage and compassion inspire even the most hardened of cynics. I cannot argue with those who find these men and women — some known, some obscure to all but those they help — to be far more deserving of this honor than I.
---