Global warming: Are these the Top 10 species most at risk?
(Read article summary)
A new study released at the Copenhagen climate change summit, outlines a Top 10 "hit list" of nonhuman species most threatened by global warming. The emphasis is on cute and cuddly, including koalas, penguins, and "Nemo."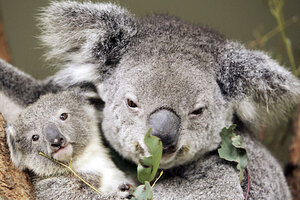 Rick Rycroft/AP/FILE
That rising temperatures are threatening thousands of plant and animal species is hardly news. But the International Union for Conservation of Nature (IUCN), seeking to bolster support for tough new restrictions on greenhouse gas emissions at the Copenhagen climate change talks, is banking that concern for the most threatened species will generate the political support for action.
On Monday, the IUCN released a list of 10 species (see below) it says are among the most threatened by climate change, and in doing so returned to one of the most popular themes in the global warming activist's playbook: Rather than focusing on the complex web of interactions between species and climate, the systems that support life on this planet, they're putting the emphasis on the cute and cuddly.
Sure, the list includes Staghorn coral, one of the most important tropical reef builders that is threatened by ocean acidification and the majestic Quiver Tree of southern Africa, which lives for more than 300 years but appears to be in the middle of a mass die-off because of rising temperatures. But all the other species on the list fall into the "charismatic fauna" category.
That people identify more with life that pleases our sense of aesthetics, generally thanks to large eyes and fur, has long been understood. That's why the World Wide Fund for Nature (WWF) uses a panda as its logo – and not, say, the Copepod, a threatened crustacean that is far more ecologically important than our bamboo-munching friend.
---