The buzz in Pyongyang: get a haircut
(Read article summary)
Dear Leader Kim Jong-il has issued new hairstyle guidelines for North Koreans in a bid to tame foreign influence. Will Vidal Sassoon become the next US special envoy to North Korea?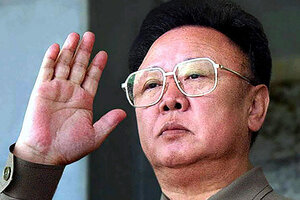 Korea News Service/Reuters
It's all the buzz in Pyongyang: Get a trim – or get out.
Dear Leader and bouffant aficionado Kim Jong-il has issued advice (also known as law in North Korea) that even the Marines could love: Men, keep your hair short. Women -- pull it back or suffer the consequences.
That was the report from official media last month. "To keep your hair tidy and simple ... is a very important matter for setting the ethos of a sound lifestyle in the country," reported Rodong Sinmun, a newspaper published by the Central Committee of the Worker's Party of Korea.
In other words, if you look like Adam Lambert, you may want to head for the nearest equivalent of Supercuts. No ducktails, no feather cuts, no mohawks, no mullets.
Maybe Mr. Kim wants to be the only one whose hair spurs invocations of Elvis (or comparisons to a frightened Chinchilla). Maybe hammering out this policy explains the lack of progress on six-party talks. Or why US envoy Stephen Bosworth didn't get a meeting with Kim last week in Pyongyang.
The bottom line: Don't look "foreign." This may seem odd from a man whose name is often linked with a love of foreign films, foreign actresses, and foreign hairdos. Or from a country whose new 5,000-won bill shows founding leader Kim Il-Sung in a Western suit. But it was the sight of a female sales clerk with a "foreign" hairdo that spurred Kim Jong-il's mournful query : "Is she really our own Korean woman? Why is she giving up our own traditional beauty and choosing to model bad foreign habits of the capitalist?"
---