Predator drone download by Iraqi insurgents wasn't 'hacking'
(Read article summary)
A Wall Street Journal story on the apparent ability of Iraqi insurgents to intercept video surveillance taken by the US military's $4 million predator drones has attracted intense interest. But the vulnerability of the transmissions has long been understood, and the intercepts weren't really "hacks."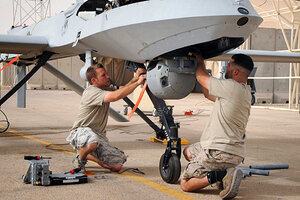 Sabrina Johnson/US Air Force/Sipa Press/Newscom
The Wall Street Journal story on Thursday morning that revealed insurgents in Iraq had been intercepting video transmissions from US Predator drones had a very catchy headline: "Insurgents Hack US Drones: $26 software is used to breach key weapons in Iraq; Iranian backing suspected."
Those words "hack," "breach" and "Iranian" were enough to set off frightening flights of fancy: Iraqi fighters had found a way to commandeer the $4 million Predators and their Hellfire missiles. If they'd managed to wrest control away from their US pilots (who are often sitting in air-conditioned offices in Arizona while gathering intelligence over Mosul or planning strikes on insurgent leaders in Baquba), could turning them on our own forces be far behind?
But the full story revealed that there really wasn't any hacking going on, and certainly no prospect of seizing control of the drones. Instead, what was happening was the passive downloading of US video transmissions, which were later discovered on captured insurgents laptops.
---