What other Al Qaeda-linked attacks have involved Yemen?
(Read article summary)
With mounting evidence that alleged airplane bomber Umar Farouk Abdulmutallab received his explosives and guidance in Yemen, eyes are turning to the Arab country that has been the source of Al Qaeda-linked attacks in the past.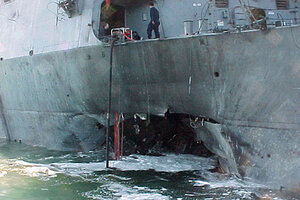 U.S. Navy/AP/File
Evidence is mounting that the explosives and expertise, such as it was, behind the failed attack on Northwest Airlines Flight 253, came from Yemen. Umar Farouk Abdulmutallab, who allegedly tried to destroy the plane with an explosive and liquid detonator, spent four months in the country until early December. Al Qaeda in the Arabian Peninsula, which is based in the country, has claimed responsibility for the attack, and ABC news quoted an unnamed FBI employee as saying Mr. Abdulmutallab has told interrogators that he received the explosives and his instructions there.
If Yemen does appear to be where this failed plot was hatched, it will not be the first time. The impoverished, California-sized country – on the important trading route linking the Red Sea to the Gulf of Aden and the Arabian Sea – was a way-station for the mostly Saudi and Yemeni mujahideen who flocked to Afghanistan to fight the Soviet occupation of that country in the 1980s. Al Qaeda sprang from among their ranks. Yemen has been a favored location for Al Qaeda militants to organize and strike out at Saudi Arabia, whose oil-flush monarchy they hate almost as mcuh as the United States.
---