World's tallest building: What's it worth to have the Dubai tower – and what should people call it?
(Read article summary)
From the last-minute name change to the engineering feats involved in constructing the world's tallest building, the Burj Khalifa continues to generate a buzz.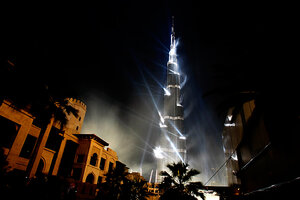 Ana Marin/Reuters
Dubai, United Arab Emirates
The Tower formerly known as Burj Dubai generated more buzz one day after its long-anticipated opening: What's it worth to have the world's tallest tower? And what now should the landmark – renamed the Burj Khalifa at the last minute – be called?
"What do we tell taxi drivers now?" one commenter asked on the website, Ahlanlive.
At 2,716 feet, the "superscraper" stands nearly twice as tall as the Empire State Building and reportedly took more than $1 billion and 22 million man-hours to build. It was intended to be the most monumental of megaprojects that have put Dubai on the map in recent years.
Some analysts say the tower's symbolic value – of confidence, ascendancy, and a pretty remarkable feat of design and construction – is priceless. "You can call it hubris, but we're in awe of the architectural and engineering achievement it represents," a Los Angeles Times editorial said, calling the Burj a "tower to look up to."
After all, as the Monitor's Laurent Belsie noted Monday, the Empire State Building opened during the Depression, the Sears Tower during the mid-1970s downturn, and Malaysia's Petronas Tower was inaugurated during the 1990s Asian financial crisis. But those skyscrapers withstood the hard times of their early days to become long-lasting icons.
---