Whale Wars: How was the Sea Shepherd's new ship sunk?
(Read article summary)
Paul Watson, star of "Whale Wars," and his eco-vigliantes at the Sea Shepherd Conservation Society have been sailing close to the legal wind for some time, harassing Japanese whalers. Wednesday the Sea Shepherd's $2.5 million speedboat Ady Gil was sunk.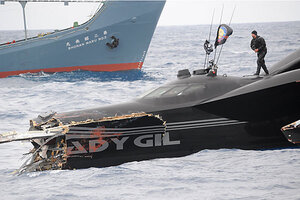 JoAnne McArthur/Sea Shepherd Conservation Society/AP
The reaction of Paul Watson, the controversial leader of the Sea Shepherd Conservation Society, to the destruction of the crown jewel in his tiny anti-whaling fleet on Wednesday was swift. But Watson also managed to get a plug in for his reality TV show, "Whale Wars."
Early Wednesday the Ady Gil, a $2.5 million carbon-fiber trimaran that his organization has been using to harass the Japanese whaling fleet in the Southern Ocean, was abandoned to sink after it was sheared in half by a collision (see video just below) with a much larger, steel-hulled boat running security for the Japanese fleet. The Gil, when it was known as Earthrace, set a global circumnavigation record.
"The Japanese whalers have now escalated this conflict very violently," Mr. Watson said in a press release issued from his flagship Steve Irwin. "If they think that our remaining two ships will retreat from the Southern Ocean Whale Sanctuary in the face of their extremism, they will be mistaken. We now have a real whale war on our hands... and we have no intention of retreating."
---