Whale Wars: Sea Shepherd lodges piracy charge against Japanese whalers
(Read article summary)
Paul Watson and his Sea Shepherd Conservation Society allege piracy following the collision between the antiwhaling ship Ady Gil and Japan's Shonan Maru Number 2 earlier this week.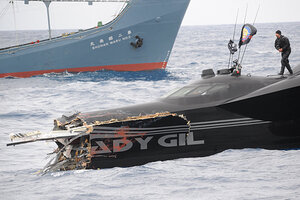 JoAnne McArthur/Sea Shepherd Conservation Society/AP
Paul Watson and his antiwhaling Sea Shepherd Conservation Society are keeping up the pressure after the collision earlier this week between their high-tech speedboat the Ady Gil and a larger vessel pulling security for a Japanese whaling fleet in the Southern Ocean.
On Friday, Sea Shepherd filed a legal complaint against the Japanese whaling fleet in the Netherlands, where Mr. Watson's flagship, the Steve Irwin, is registered. "We filed a complaint for criminal prosecution with our prosecutor, requesting the start of an investigation into what we consider to be a crime -- piracy, actually -- committing violence on the high seas," Liesbeth Zegveld, a legal adviser for the group, told Reuters.
Also on Friday, the group announced that it had abandoned efforts to tow the Gil, which had its bow sheered off in the collision, to port. The vessel, which was built for $2.5 million under the moniker Earthrace and circled the globe in a world record 60 days, was donated to Sea Shepherd last year. The boat, which had been currently valued at $1.5 million by Watson, sank after its tow line snapped.
---