Whale Wars: Sea Shepherd Watson threatens citizen arrests, says donations pouring in
(Read article summary)
After a collision with a Japanese whaler that led to the sinking of the Sea Shepherd Conservation Societies Ady Gil last week, the group's leader Paul Watson threatened "citizen's arrests" and said the incident had been a fund-raising boon.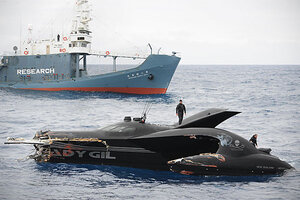 JoAnne McArthur/Sea Shepherd Conservation Society/AP
Paul Watson, the self-styled ecological pirate whose Sea Shepherd Conservation Society lost its fastest boat , the Ady Gil, after it tangled with a Japanese whaling ship last week, is threatening to escalate the hostilities in the Southern Ocean.
"If Australia and New Zealand do not bring charges against the Shonan Maru, they leave us little choice but to go and arrest the vessel," The Australian newspaper quoted Mr. Watson as saying. "We will attempt a citizen's arrest on it and that will be a confrontation and whatever the consequences of that confrontation will be the fault of the Australian government for failure to act.
Watson's group has already filed piracy charges against the Japanese whaling fleet in a Dutch court, and the group says it's considering bringing attempted murder charges against the skipper of the Shonan Maru No. 2, a member of the Japanese fleet that runs security against the Sea Shepherds. The Sea Shepherds seek to insert themselves between whalers and their prey, and have in the past sought to foul the propellers of Japanese vessels with cables and used lasers to try to temporarily blind Japanese sailors.
Mr. Watson also said that donations have been flowing into his organization since the sinking of the Gil, a high-tech trimaran that circled the globe in a record 60 days, before being donated to the organization by a wealthy philanthropist of the same name.
---