Haiti death toll: Government says toll could be massive, but firm numbers elusive
(Read article summary)
The Haiti earthquake destroyed thousands of homes and the Haitian government is warning that "hundreds of thousands" could be dead. But death tolls are frequently inaccurate in the immediate aftermath of such disasters.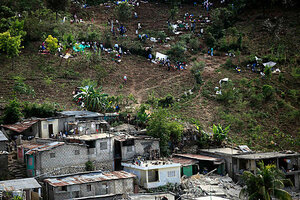 Carlos Barria / Reuters
A Haitian official at the United Nation's said on Wednesday that 100,000 of his countrymen had died in the earthquake the struck near Port-au-Prince, the capital, late on Tuesday and Haitian Prime Minister Jean-Max Bellerive told CNN that he's worried the death toll could climb into the hundreds of thousands.
While their worst fears are understandable, given the scale of damage to buildings and homes being revealed in videos uploaded to Youtube and by Haitian's using the social networking site Twitter, the early hours and days after such disasters are always times of great confusion, when telephone networks and computer systems are down and many roads impassable, making it difficult to estimate the true extent of the damage. That can sometimes lead to the double reporting of deaths, happened upon by different local officials or aid workers.
Mr. Bellerive explained, in his interview with CNN, how hard it is to be sure. "I hope that (estimate of hundreds of thousands) is not true, because I hope the people had the time to get out," he said. "Because we have so (many) people on the streets right now, we don't know exactly where they were living. But so many, so many buildings, so many neighborhoods totally destroyed, and some neighborhoods we don't even see people."
Separately, Haitian President Andre Preval said the death toll could rise to 50,000. The "confirmed" numbers of dead were still in the hundreds Wednesday afternoon.
---