Haiti earthquake: Head of UN, and other key employees, missing
(Read article summary)
The United Nation's is saying the head of the UN mission in Haiti is missing along with other key personnel after Tuesday's earthquake. There is mounting concern about the loss of some of the most experienced aid workers in Haiti at a time when they're needed most.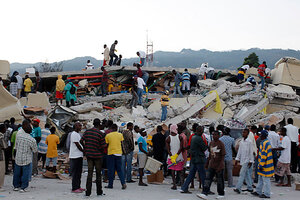 Eduardo Munoz/Reuters
The devastating earthquake that struck near Port-au-Prince, Haiti on Tuesday has cost hundreds of Haitian lives, based on reports so far, and destroyed thousands of homes and much of the basic infrastructure of the capital city. But it may also have killed some of the most experienced aid workers in the impoverished country, which could slow assistance efforts in the days ahead.
Speaking late Wednesday morning, UN Secretary General Ban Ki-moon said the organization's chief representative in Haiti, Hédi Annabi, and Mr. Annabi's deputy Luiz Carlos da Costa remain unaccounted for since the UN headquarters at the Christopher Hotel were destroyed yesterday. France's Foreign Minister Bernard Kouchner said Annabi had been killed, but the UN said that has not been confirmed.
---