Haiti earthquake: The nations that are stepping up to help
(Read article summary)
Pledges of financial and material aid to Haiti continue to roll in from around the globe. A look at what nation's are doing to help.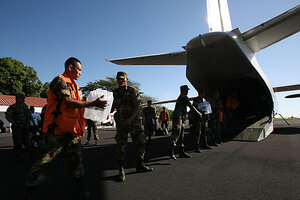 Oswaldo Rivas/Reuters
In the aftermath the Haiti earthquake, which Prime Minister Jean-Max Bellerive is describing as "the worst catastrophe that has occurred in Haiti in two centuries," the international community is mobilizing to deliver hundreds of millions of dollars in aid, manpower, and supplies to the poor Caribbean nation.
More than 20 countries, scores of private companies, and numerous international humanitarian groups have pledged aid to the western hemisphere's poorest nation.
The Dominican Republic was the first to deliver aid. Despite tense political ties with its island neighbor, the Dominican government has sent 10 mobile cafeterias capable of serving 100,000 meals a day, heavy debris-removing equipment, and medicine.
President Obama, promising the Haitian people America's "unwavering support," dispatched the USS Carl Vinson aircraft carrier from its port in Norfolk, VA to deliver supplies and crews and has ordered one of the U.S. Navy's largest amphibious ships, the USS Bataan, to transport a Marine expeditionary unit. Additionally en route from the US are three 70-member search and rescue teams equipped with sniffer dogs and four U.S. Coast Guard cutters.
---