Haitian earthquake: Aid starts to pour in, Clinton fears high death toll
(Read article summary)
Two days after the Haiti earthquake, outside help has started to pour into Port-au-Prince as Secretary of State Hillary Clinton said the death toll may be in 'tens of thousands.' A US carrier is steaming toward Haiti, and British, Brazilian, Chinese, and other aid teams are already on the ground.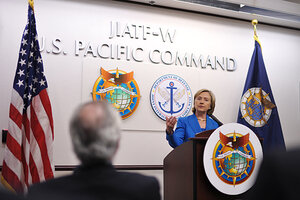 Mandel Ngan/Newscom
Two days after the devastating earthquake that left tens of thousands homeless on the streets of Port-au Prince and an as-yet uncounted number of dead, international aid teams began to arrive en masse in the stricken capital on Thursday.
United States states troops helped clear damaged runways and got the country's main airport up and running again by Thursday morning. Members of the US Air Force were dispatched from Florida Wednesday night to set up an emergency air traffic control system to handle what is expected to be a burgeoning airlift of food, water, medical supplies and aid workers in the coming days.
The International Red Cross says a plane with 40 tons of emergency supplies is on its way to Port-au-Prince from Geneva, and rescue teams from Brazil, Cuba, the US, China, and other nations are already on the ground or scheduled to arrive shortly. Cuba dispatched 30 doctors who have already arrived. Among the teams sent from America was a group of about 70 search-and-rescue experts from the Fairfax County, Va., fire department.
Acute need
---