Haiti relief work: How you can volunteer now
(Read article summary)
Aid agencies largely say that for Haiti relief work, money is needed more than additional aid volunteers now. But there are still hands-on ways to aid Haiti.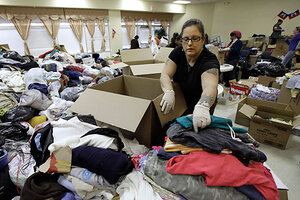 David J. Phillip/AP
Americans and concerned observers worldwide watched Haiti tremble after a magnitude 7.0 earthquake Tuesday evening, and many immediately asked: How can I help?
Relief organizations largely say that right now, money donations are needed more than additional aid volunteers.
"It's a bit of a tough one for impromptu volunteers to enter into the fold," says Richard Muffley, spokesman for the Center for International Disaster Information (CIDI) in Washington. Unsolicited volunteers may not have the needed training from aid organizations and will still need to be fed and housed once in a disaster zone, he says. "Cash is truly the most economical and efficient way of making a contribution."
But Mr. Muffley and other aid organizations also say there are still opportunities to be hands-on with Haiti earthquake relief – which, they note, will continue long after the shock the quake triggered this week.
How you can volunteer now
For medical workers, the International Medical Corps is still open.
"We are taking applications for volunteer doctors and nurses, but we have a particular need for nurses," says Crystal Wells, the group's communications officer in Chicago. Applicants can fill out their information on the "Work with Us" tab of their website. Both medical and non-medical workers can register their offer of services with the CIDI on their website: http://www.cidi.org/default.htm. Aid agencies browse the listings and call on those whose services match their needs.
---