Groundhog Day: Top five animal forecasters
(Read article summary)
Punxsutawney Phil isn't the world's only prognosticator. Before Groundhog Day, Celts looked to the badger, Brits looked to their cats, and Europeans turned to the bear to discern the coming weather.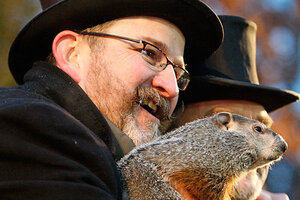 Gene J. Puskar / AP
Top Five Animal Weather Forecasters ...
5. Birds on a telephone wire signal a rainstorm. (Think Hitchcock's "The Birds.")
4. When dogs eat grass, expect a severe storm. (Or, you forgot to feed your dog.)
3. Squirrels are busier gathering nuts before a bad winter. (But who really has time to count nuts?)
2. If rats in the hold climb out on deck, it will be a fair day. (Or maybe tanning machine below deck is broken.)
1. If Punxsutawney Phil sees his shadow there'll be six more weeks of winter. He's right 39 percent of the time, claims StormFax Weather Almanac. Or, he's right 61 percent of the time and StormFax is the mixed up one.
Before Punxsutawney Phil – Seer of Seers, Sage of Sages, Prognosticator of Prognosticators, and Weather Prophet Extraordinary, according to his agent – started seeing his shadow in Pennsylvania, Celts looked to badgers and Europeans looked to bears to divine the weather.
But the folklore of weather goes well beyond the winter forecast.
What do the woodpeckers and woolly bears say?
In England, it's said that rain is on the way when the woodpecker laughs, and that frost is coming if a cat sits with its back to the fire. Plants and trees, too, evidently have the knack: frost is ended when mulberry tree put out shoots, but if the Ash buds before the Oak, then it'll be "a regular soak." And in lower Canada and America's northeast, Woolly Bear Caterpillars are said to show a wider middle brown section if the coming winter will be mild.
---