Is China hacking? A veteran correspondent recounts hints of surveillance
(Read article summary)
An intelligence service in Britain is warning that business travelers in China are targets of state hacking, and the Monitor recently reported that the FBI suspects China stole valuable bid data from US energy companies computers. A former China correspondent recounts his own brushes with surveillance.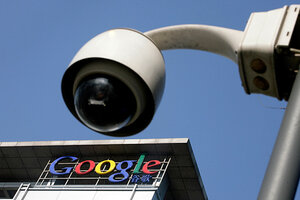 Jason Lee/Reuters
Taken together – China's "Googlegate," and the newly disclosed British MI5 warnings on business traveler espionage in China – are helping bring global attention on a long-standing problem.
First, Chinese hackers got caught toying with Google accounts of human rights investigators. US Secretary of State Hillary Rodham Clinton gave a tough speech in January on Internet freedom and against arresting bloggers, saying "an attack on one country's network is an attack on us all." The Foreign Correspondent's Club of China (FCCC) sent a warning note to members about foreign bureau emails being hacked and diverted to other accounts.
But it's the tip of the iceberg.
Some sense of the iceberg's size is hinted at in a Christian Science Monitor exclusive Jan 17, showing that three major US oil companies were hacked and "bid data" -- details on the "quantity, value, and location of oil discoveries worldwide" -- was compromised. Many experts think the hack came from the People's Republic of China.
---