Haiti ambassador: 'compassion' for American missionaries charged with kidnapping
(Read article summary)
The Haitian government on Thursday charged 10 American missionaries with abduction. Haiti's ambassador to the US promised "compassion" and said the case shows the world that the government will continue to enforce the rule of law.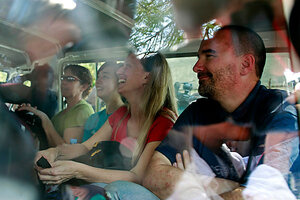 Rodrigo Abd / AP
The 10 American missionaries who attempted to sneak 33 children out of Haiti last Saturday were charged today with kidnapping.
Haitian Ambassador Raymond Joseph says the charges signal that anarchy will not prevail, despite the earthquake's destruction of most government buildings in Port-au-Prince.
"By this action, I think the Haitian government is sending a clear message to the world that there is a government in place, and that nobody can just take it upon himself or herself to come and do in Haitii whatever they think is good," Mr. Joseph said by telephone Thursday from Washington, D.C.
The Baptist missionaries from Idaho and Kansas were brought Thursday before a judge who found sufficient evidence to charge them with abduction and criminal conspiracy. Those crimes can carry prison terms of up to 15 years.
The stated purpose of the New Life Children's Refuge group's "Haitian Orphan Rescue Mission" was to "rescue Haitian orphans." But it came out that most of the 33 children had families and many of their parents had willingly given the children to the missionaries.
---