Stocks rally on news of possible Greece bailout. What comes next?
(Read article summary)
Stocks rallied in the US and in Europe on Tuesday on expectations of an emergency European Union bailout for Greece. But Greece, with a ballooning national debt, is not out of the woods yet.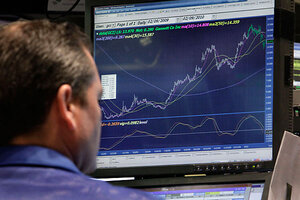 Richard Drew/AP
Is the European Union about to put lipstick on a pig?
No, not the type of pig that can get you into hot water in a US presidential campaign. But one of the PIGS – Portugal, Ireland, Greece and Spain – whose heavy levels of debt, which have proved a drag on the euro in the past year, have earned them that unflattering moniker in European financial markets.
The PIG in question is Greece, which currently has the ugliest financial outlook of any member of the eurozone. The Hellenic Republic's problems have depressed European and other markets since the start of the year, with fears of a possible Greek government default leading to contagion – a felling of financial dominoes as investors panic and defaults in one country trigger problems elsewhere.
Ireland, for instance holds a significant chunk of Greece's debt and is facing financial problems of its own. Greece's debt burden were a key reason the euro fell to a 9-month low earlier this week.
After news agencies reported today that Germany, France, and other European financial heavyweights were considering a package of loan guarantees – a type of bailout – for Greece, US stocks and some European markets rallied. The benchmark Greek stock index rallied five percent.
---