Hamas assassination: 10 of the new suspects' names are shared by Israelis
(Read article summary)
Dubai said Wednesday that the Hamas assassination investigation yielded 15 more suspects. The Israeli media said 10 of the new names are shared by Israelis. And while most in the region believe the Mossad carried out the hit, some evidence is emerging of ties to Iran.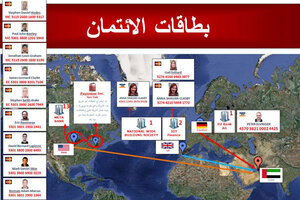 Dubai Police/Reuters
Dubai police said Wednesday that their Hamas assassination investigation into the killing of senior Hamas figure Mahmoud al-Mahbouh has kicked up 15 new suspects, bringing the total number of people alleged to have participated in the murder to 26.
Today's announcement appeared to simultaneously strengthen and weaken the firmly held belief in the Middle East that the Mossad, Israel's intelligence agency, was behind the murder.
On the one hand, the respected Israeli daily Haaretz reported that 10 of the new names are shared by immigrants to Israel who still hold foreign passports. Philip Carr, a British-born South African raised father of five who lives near Jerusalem, told the paper he was "shocked" that his name had apparently been used.
After an original announcement about 11 suspects earlier this month, six of their names were found to match those of British immigrants to Israel, all of whom have said they had nothing to do with the murder. The UK said the passports used in those six cases were all forgeries, and the names released today are likewise suspected to be aliases for individuals traveling on forged or stolen passports.
---