Hamas assassination: Australia outraged at identity theft, Israel ambassador summoned
(Read article summary)
The Hamas assassination investigation widened on Wednesday, when Dubai added 15 suspects to the list of those accused of arranging the murder of Mahmoud al-Mabhouh. On Thursday, Australia summoned Israel's ambassador and delivered a stark warning.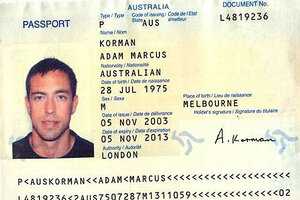 Dubai Police/Reuters
The Hamas assassination investigation in Dubai yielded 15 new suspects on Wednesday. The fact that three of the suspects were traveling on apparently fraudulent Australian passports – the first time the investigation has widened beyond the Middle East and Europe – saw Australia issue a blunt warning to Israel's ambassador in Canberra on Thursday.
Dubai has now named 26 suspects who traveled to Dubai on apparently fake European and Australian passports involved in the murder of alleged Hamas arms procurer Mahmoud al-Mabhouh on the night of Jan. 19 in his Dubai hotel room. His body was discovered by hotel staff the next morning. In addition, Dubai authorities say they have two Palestinians with ties to Hamas rival Fatah in custody. Syria says it has detained a Hamas official in Damascus for questioning.
---