Chile earthquake relief: Want to help? Just send a text.
(Read article summary)
Anyone wishing to donate to Chile earthquake relief efforts can now do so just by pressing a few buttons on his or her cellphone. After the Haiti earthquake in January, text donations totaled more than $40 million.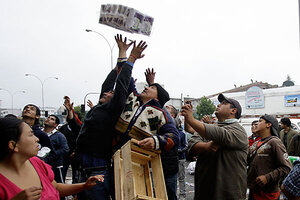 Natacha Pisarenko/AP
As during the Haiti earthquake aftermath, Americans are now being encouraged by organizations working on Chile earthquake relief efforts to donate via text message.
"We're facing an emergency unlike anything else in Chile's history," said Chilean President Michelle Bachelet on Sunday, a day after the earthquake hit central Chile and killed at least 708 people.
One of the most developed countries in Latin America, Chile did not immediately appeal for foreign aid. "We generally do not ask for help," said Ms. Bachelet. But on Monday, she opened up to foreign assistance, saying that Chile faces ''a catastrophe of such unthinkable magnitude that it will require a giant effort to recover."
IN PICTURES: Images from the magnitude-8.8 earthquake in Chile
The Mobile Giving Foundation, which organized text message relief for Haiti, has vetted the following organizations for donating to Chile:
Text "CHILE" to 20222 to donate $10 on behalf of World Vision.
Text "CHILE" to 52000 to donate $10 on behalf of the Salvation Army
Text "SAVE" to 20222 to donate $10 on behalf of Save the Children Federation, Inc.
Text "CHILE" to 85944 to donate $10 on behalf of International Medical Corps.
Text "4CHILE" to 50555 to donate $10 on behalf of Convoy of Hope
Text "CHILE" to 50555 to donate $10 on behalf of Friends of the World Program
Text "REBUILD" to 50555 to donate $10 on behalf of Friends of the Operation USA
---