Hamas assassination: Debit cards issued by firm with Israeli ties
(Read article summary)
The Hamas assassination in Dubai involved a number of people who traveled under the stolen identities of Israeli dual nationals. The pre-paid debit cards the alleged assassins used to pay their hotel bills while in Dubai also have connections to Israel.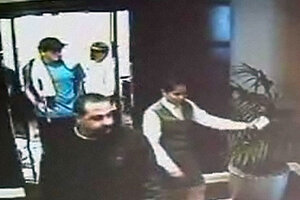 Balkis Press/Newscom
Police in the United Arab Emirates (UAE) investigating the Hamas assassination in Dubai have released a pile of evidence that points towards an Israeli connection to the murder of Mahmoud al-Mabhouh, but so far no smoking gun.
Dubai Police Chief Lt. Gen. Dahi Khalfan Tamim told the Monitor on Monday that he suspects most of the 27 suspects involved in the alleged hit squad are now in Israel, and two of them have taken refuge in the United States. He has also said that he is "99 percent" certain that the Mossad, Israel's external intelligence organization, was behind Mr. Mabhouh's killing.
In addition to the fact that many of the identities used in what have since been shown to be fraudulent European and Australian passports were stolen from Jewish immigrants to Israel, the prepaid credit cards that some of the assassins used to pay for their hotel rooms and plane tickets were issued by a company with ties to the Jewish state.
Dubai police say the cards were issued by the Iowa-based MetaBank, which in turn subcontracted the details of the card to New York-based Payoneer, a company that issues prepaid cards and provides banking services similar to Paypal.
---