Chile earthquake relief: Cellphone donations struggle compared to Haiti
(Read article summary)
While $21 million in cellphone text-message donations poured into Haiti in the first 48 hours after the earthquake, only about $100,000 in total phone text donations have gone to Chile since the Feb. 27 earthquake.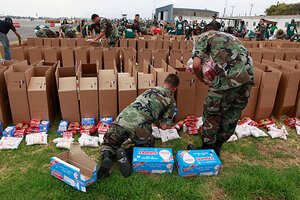 Pablo Martinez Monsivais/AP
After the Chile earthquake on Saturday, cellphone text-message donations raised merely $100,000 in the first four days following the earthquake that rocked South America's southern coast, which pales in comparison to the $21 million in text-message donations sent to Haiti in half that period.
Whereas $437,500 per hour in text donations poured into Haiti, less than $1,100 per hour has rolled into charities helping in Chile.
"Nothing compares to what was raised for Haiti," says Christian Zimmern, co-founder and vice president of the Washington-based Mobile Giving Foundation, which started in 2007 and channels text-message donations to a handful of vetted Haiti and Chile charities.
IN PICTURES: Images from the magnitude-8.8 earthquake in Chile
In total since the Jan. 12 earthquake hit Haiti's coast, Americans have donated about $41 million via text messages to the Caribbean island.
While American Idol host Ryan Seacrest and former Fugees rap star Wyclef Jean urged Americans to donate $5 and $10 amounts to Haiti relief using their cell phones, Chile isn't getting the same attention.
---