Ahmed Chalabi emerges as key player in Iraq election after falling-out with US
(Read article summary)
Ahead of the March 7 Iraq election, Ahmed Chalabi, who helped convince former President Bush to invade and create a democracy at peace with Israel, is promoting a regional alliance that would include US adversary Iran.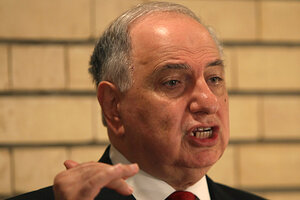 Saad Shalash/Reuters
Ahmed Chalabi, the man who helped convince former President George W. Bush that invading Iraq would transform the Arab world into a haven of democracy at peace with Israel, is back as a key player in the Iraqi election.
Mr. Chalabi, a member of a slate of electoral candidates mostly drawn from Islamist Shiite parties, was deeply involved in a de-Baathification committee that disqualified about 500 secular candidates from running in the election and briefly had some Sunni politicians inside Iraq considering a boycott.
While the boycott won't happen, Chalabi's role in the disqualification of candidates from rival parties – even as he runs on a slate the includes men alleged to have participated in the sectarian violence of Iraq's civil war – increases the sectarian tension around Sunday's election. It's also a symbol of the gains Iran has made thanks to the removal of Saddam Hussein, Iraq's secular Sunni dictator and an avowed enemy of the regime in Tehran. Chalabi has cordial relations with the leaders of the Shiite theocracy next door, as do most of the senior crop of Shiite politicians in Iraq.
---