Timbuktu, the birthplace of blues
(Read article summary)
Don't argue with an African about the birthplace of blues. It's Timbuktu. Hear why.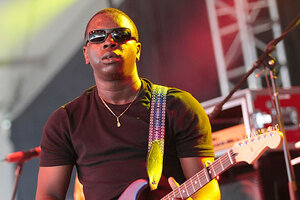 Dave Martin/AP/File
• A local, slice-of-life story from a Monitor correspondent.
Ask an American where the blues come from, and he might answer Chicago; or Memphis, Tenn.; or the Mississippi Delta.
Ask an African, and he'll look at you as if you're stupid. The blues came from Timbuktu, where the sands of the Sahara met the banks of the mighty Niger River, and reached a compromise. Here, Arab and Tuareg caravans came from the desert bearing slabs of precious salt and bartered with African traders offering pots of gold (and often slaves) in return. The culture that came out of this meeting place produced a rhythmic and mournful music that you can still hear in the songs of the Tuareg, Fulani, and Songhay communities here.
It's advisable not to argue with the folks in Timbuktu about this point, unless you're in a dangerous mood.
"My father used to tell me all the time that the blues is not from America, it's from Africa," says Vieux Farka Toure, Mali's top guitarist, and son of the late guitarist Ali Farka Toure. "Who plays the blues? African-Americans do. In fact, I don't even like to think of them as African-Americans. They are Africans living in the United States."
VIDEO: Guitarist Vieux Farka Toure discusses his music with Monitor staff writer Scott Baldauf.
---