World's longest-serving leaders: Where does Zimbabwe's Robert Mugabe rank?
(Read article summary)
Robert Mugabe this week marks his 30th anniversary as president of Zimbabwe. Here's a list of the world's longest-serving leaders.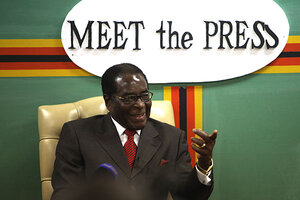 Tsvangirayi Mukwazhi/AP
Zimbabwe's President Robert Mugabe marked his 30th year in power this week. He announced plans to stand for reelection in 2012 if his party nominates him, though he still has a number of years to go if he aims to become one of the world's longest-serving leaders.
Iron-fisted Mugabe took the helm of the south African country on March 4, 1980. Despite losing parliamentary elections in 2008, his party won a violent run-off that ultimately put him in a power-sharing agreement with opposition Prime Minister Morgan Tsvangirai.
Even after three decades in power, the 86-year-old barely cracks the Top 10 list of world's longest-serving elected leaders.
IN PICTURES: Top 10 longest-serving leaders
Of course, the word "elected" is used very loosely here. Still, we're not including countries ruled by a monarchy.
---