Turkey earthquake kills 51; scientists say earthquake frequency not rising
(Read article summary)
The Turkey earthquake of magnitude-6.0 killed 51 people Monday, on the heels of deadly quakes in Taiwan, Chile, and Haiti. But scientists say earthquakes aren't becoming more frequent.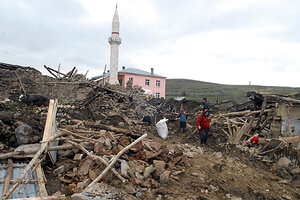 Reuters
In yet another deadly rumbling of Earth's crust, an earthquake in Turkey killed at least 51 people early Monday morning. But scientists are warning against drawing conclusions about increasingly frequent earthquakes.
The magnitude-6.0 earthquake hit at 4:32 a.m. local time in Elazig Province in eastern Turkey, about 340 miles east of the capital, Ankara. It knocked down stone and mud-brick houses, according to reports. More than 50 aftershocks measuring up to 5.5 vibrated the region and slowed efforts to treat dozens of injured people.
"Everything has been knocked down, there is not a stone in place," Yadin Apaydin, administrator for the village of Yukari Kanatli, where at least three people died, told the Associated Press.
The government initially put the death toll at 57 but lowered it to 51. Turkish Prime Minister Recep Tayyip Erdogan told the press: "Teams from the state mass housing project have also been sent to the area to study how to rebuild the area in different methods."
The Turkish quake comes on the heels of quakes measuring 6.4 in Taiwan, 8.8 in Chile, and 7.0 in Haiti, raising speculation of a link.
---