Former FBI Agent Robert Levinson still missing in Iran
(Read article summary)
Today marks the third anniversary of the disappearance of former FBI agent Robert Levinson on Kish Island in Iran.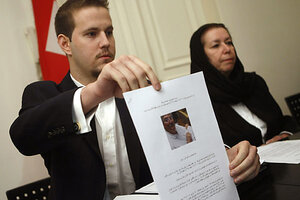 Behrouz Mehri/AFP/Getty Images/Newscom/File
The US State Department marked the third anniversary of the disappearance of Robert Levinson, a former FBI agent turned private investigator, from Kish Island in Iran by appealing to the authorities in Tehran to cooperate with the efforts of the US and his wife, Christine, to locate him.
"In December 2007, Mrs. Levinson first met with Iranian officials who expressed a willingness to share information about their investigation into her husband's disappearance with the family," the State Department said in a press release. "We ask that Iran stand behind its commitment to provide full details about their authorities' investigation."
The State Department also marked the anniversary by calling on "Iran to resolve the cases of the five American citizens who are unjustly detained in Iran: Joshua Fattal, Shane Bauer, Sarah Shourd, Kian Tajbakhsh, and Reza Taghavi."
---