Is Internet access a human right? Top 10 nations that say yes.
(Read article summary)
Four out of 5 people worldwide say Internet access is a human right, according to a recent BBC poll. Even more than Americans, Chinese believe that to be true.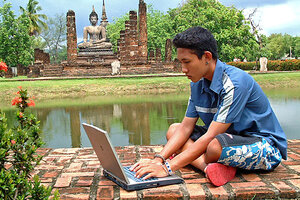 Courtesy of Richard Barrow
Chinese believe more strongly than Americans that Internet access is a basic human right.
But Americans are more likely to search the Internet for a girlfriend or boyfriend, according to a recent BBC poll of 27,000 people across 26 nations.
IN PICTURES: Top 10 countries that say Internet access is a basic right
Perhaps because Americans can surf a number of websites cordoned off by the great Chinese Fire Wall – from the Dalai Lama's personal web page to the Internet Movie Database – more Chinese (87 percent) see the Internet as a fundamental human right than do Americans (76 percent).
Worldwide, 79 percent of all Web users say access to the Internet should be a fundamental right. (Read the full report here.)
That ranks China as the world's 8th most ardent believer in Internet access as a basic right, while America falls in the middle of the pack.
---