Paul Watson spices up Canada seal hunt fight
(Read article summary)
Controversial Whale Wars captain Paul Watson has spiced up opposition to the Canada seal hunt -- offering $50,000 to anyone who can prove Harp seals wastefully eat cod. Canadian senators – in a snub to the EU – promise to keep seal meat on Parliament's menu for as long as the animals are in season.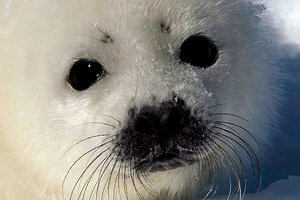 Stewart Cook/IFAW/EPA
It doesn't have quite the drama and global appeal as his Whale Wars. But Sea Shepherd captain and Canadian Paul Watson reentered the emotional debate over Canada's annual seal hunt last month, with predictable results.
Fishermen on the Atlantic coast of Canada have complained for years that harp seals have been depleting stocks of cod, and that a global campaign to put Canada's sealers out of business – most based in Newfoundland and Nova Scotia – could also spell doom for its fishermen, who bring in about $30 million worth of Atlantic cod a year.
Some fishermen believe that the seals preferentially dine on the nutrient-rich livers and bellies of the cod, leaving the rest to go to waste and requiring more fish to be killed to make a meal. Mr. Watson says that's absurd, and has offered $50,000 to anyone who can provide video evidence of the practice. The move is designed to generate publicity and support for the campaign to end what he an many others consider a barbaric practice.
That claim echoes past claims about other other predators that were later proved to be false (ranchers and hunters have at various times claimed that wolves and coyotes were indiscriminate killers). But there does appear to be a grain of truth here. In a 2005 report, Canada's Department of Fisheries and Oceans found that seals are an important predator – even though cod are preyed upon at various stages in their life cycle by squid, minke whales, halibut, and other cod. While the seals mostly feed on smaller fish, the report found that "large cod probably have few natural predators, but seals can prey upon them by belly-feeding."
---