Joe Biden and Obama 'humiliated' by Israel? Well, not exactly.
(Read article summary)
Commentators have called Israel's announcement of new settlement construction in East Jerusalem during Vice President Joe Biden's visit a humiliation. But the Palestinian leadership still appears willing to give talks a chance.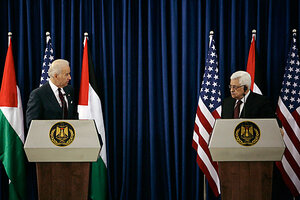 Ammar Awad/Reuters
When US Vice President Joe Biden arrived in Israel Sunday for the highest level visit by a US official since President Barack Obama took office, it was all sunshine between him and his host and old friend, Israeli Prime Minister Benjamin Netanyahu.
Mr. Biden had arrived with a twofold mission. First was to goose efforts to restart the Israeli-Palestinian peace process, which both sides had agreed to tentatively resume the day before.
But he was also there to reassure an Israeli public left skeptical by President Obama's decision to make a major speech in Cairo last year on a Mideast swing that did not include Israel of America's enduring friendship.
Sure, Israel had announced a small settlement expansion in the occupied West Bank, something the US had opposed, on the eve of his visit. But Biden didn't appear overly concerned, and the next day he spoke at a press conference that left many Israeli officials euphoric.
Standing next to Prime Minister Netanyahu at a press conference on Tuesday, Vice President Biden assured him of America's amity.
---