Carlos Slim Helu is the richest man in the world
(Read article summary)
The annual Forbes billionaire list says Mexico's Carlos Slim Helu is the richest man in the world, finally edging out Microsoft founder Bill Gates and signaling the rising wealth in developing nations.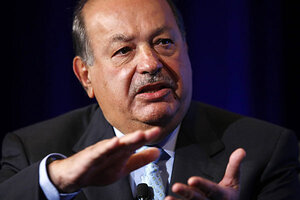 Kevin Lamarque/Reuters/File
Mexico's Carlos Slim Helu is the richest man in the world.
The annual Forbes billionaire list puts the portly cigar-smoker just ahead of Bill Gates, who held the title for 14 of the past 15 years.
Shares of Slim's telecommunications company America Movil surged 35 percent over the year, bringing his fortune up $18.5 billion in the past 12 months to $53.5 billion, according to the Forbes rich list released Wednesday.
IN PICTURES: Forbes: The richest men in the world
Gates is worth $53 billion, up $13 billion from a year ago. Warren Buffett – the world's richest man in 2008 – now ranks third, with his fortune growing $10 billion over the year to $47 billion.
Slim, 70, is the first man from a developing nation to become the world's richest person, but is only the tip of the iceberg for poorer nation's billionaires as America's share of billionaires dropped to 40 percent from 45 percent of the total a year ago.
Over the past year, Taiwan tripled its number of billionaires to 18, Turkey more than doubled its own to 28, and Brazil and Russia doubled their billionaires to 18 and 62, respectively. For the first time China, with 64 billionaires, has the most outside the US.
---