Turkey cancels summit with Sweden over Armenian genocide resolution
(Read article summary)
A week after a US congressional committee passed an Armenian genocide resolution, Sweden has followed suit. Swedish trade with Turkey has increased significantly in recent years.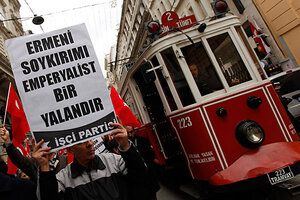 Murad Sezer/Reuters
Anger over events of nearly a century ago has prompted Turkey to cancel a top-level summit in Sweden next week, in the aftermath of a decision by the Swedish Parliament to declare the mass deaths of Armenians at the hands of Ottoman Turks in 1915 a genocide.
"We strongly condemn this resolution, which is made for political calculations," said Prime Minister Recep Tayyip Erdogan, who canceled his visit to Stockholm next Wednesday for a Sweden-Turkey summit. "It does not correspond to the close friendship of our two nations."
"Those who think that historical facts and Turkey's views of its own past will change with the decisions made on the basis of political interests of foreign parliaments are seriously deluded," he said.
US, Swedish resolutions passed by one vote
Turkey recalled its ambassador from Stockholm on Thursday, just a week after recalling its envoy from Washington for consultations after the US House Foreign Affairs Committee passed a similar non-binding resolution.
Turkey disputes the term genocide for the deaths of up to 1.5 million Christian Armenians, and says both Armenians and Turks died during World War I fighting as the Ottoman Empire began to collapse.
The resolutions in both Sweden and the US congressional committee passed by just one vote, with some politicians strongly criticizing the move.
---