As Ireland breaks for St. Patrick's Day, Ulster Unionists turn to Flash Harry for votes
(Read article summary)
The Ulster Unionist Party, once the powerful voice of pro-British activism in Northern Ireland, has turned to Freddy Mercury impersonator Flash Harry to improve its political standing.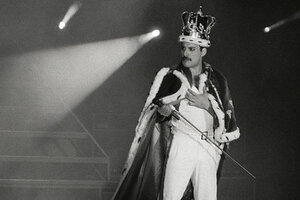 Newscom/File
Politics and popular culture often make for uncomfortable partners. But the Ulster Unionists – whose politics and penchant for the color orange are not exactly popular in much of Ireland on St. Patrick's Day – are reaching out for a little rock-and-roll pizazz to improve their chances at the polls in Northern Ireland.
Whether it's well-meaning campaigns like Rock the Vote, Ted Nugent at the tea parties, or the sight of musicians of near-pensionable age attempting to educate youths about global issues (step forward, Sting and Bono), rock-and-roll and politics just never quite seem to gel.
Perhaps it's rock's anti-authoritarian aesthetic of eternal teenage rebellion. Or maybe it's just that the last thing we want from lawmakers is "excitement" in the form of sex, drugs and rock-and-roll.
---