St. Patrick's Day 2010: It was about church, not Guinness
(Read article summary)
Guinness sells 10 million glasses of beer daily (but no green beer) and far more on St. Patrick's Day. That's a new phenomenon. Not long ago, all pubs in Ireland closed on St Patrick's Day.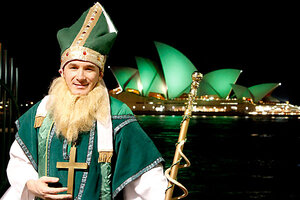 Daniel Munoz/Reuters
Not so long ago, there was no Guinness beer – and certainly no green beer – in Ireland on St. Patrick's Day.
In fact, all the pubs closed on St. Patrick's Day in Ireland. Families attended church and later went for a walk or worked in the garden.
The holiday was exactly that, says Carmel McCaffrey: a holy day.
"When I was a child in Ireland, the pubs didn't even open. It was a holy day. We went to church," the Irish scholar and former Johns Hopkins professor said in a phone interview from Maryland. "We'd usually just meet up with friends and have a meal. There were no drinks."
IN PICTURES: St. Patrick's Day parades around the world
That's not what you'll hear in Dublin today, as the holiday to remember the British missionary to the Druids switches focus from religion to revelry.
"As long as St. Patrick's Day has been around, they've drunk Guinness," insists Mark McGovern, a Guinness brewery spokesman said by telephone from Dublin.
---