Somali pirates mistakenly attack Dutch warship. Oops.
(Read article summary)
As the high season of piracy begins, Somali pirates started to attack the HNLMS Tromp, a Dutch warship. European Naval forces are having good success with a more aggressive anti-piracy strategy.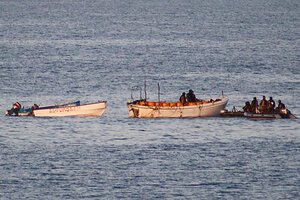 AP
Chalk it up to another case of poor eyesight - or perhaps outsized ambition.
On Wednesday, Somali pirates rolled out of bed, grabbed their AK-47s, hopped in a couple of skiffs and tried to take on the HNLMS Tromp, a Dutch warship.
"A rather silly mistake," wryly observed Cmdr. John Harbour, the European Union navel spokesman.
When they got close enough to realize that their greed was dwarfed by their opponent, the pirates turned their skiffs around and fled. The Dutch shipped tracked them down, and boarded their mother ship, capturing 13 would-be pirates and weapons.
But it's not the pirates' first case of mistaken identity on such a disastrous scale. Check out our Top 5 blunders of Somali pirates.
---