Palestinian support for 'two-state' solution drops with Israel defiant on settlement freeze
(Read article summary)
Palestinian support for a two-state solution is declining, according to a new poll released as Israel Prime Minister Benjamin Netanyahu vows to continue building in East Jerusalem.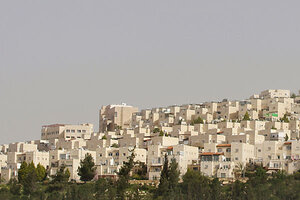 Dan Balilty/AP/File
Comments by Israeli and Palestinian officials today represented an unstoppable force meeting an immovable object, and go a long way to explaining why peace talks between the two sides are stalled, if not moving in reverse.
At the heart of their comments is East Jerusalem, the portion of the holy city that Israel seized from Jordan in the 1967 war and that has in recent years become the frontline – both literally and symbolically – of the Israel-Palestine conflict.
Nabil Abu Rudaina, a spokesman for Palestinian President Mahmoud Abbas, told Reuters on Tuesday that Israel Prime Minister Benjamin Netanyahu must agree to a full settlement freeze – including East Jerusalem – or the chance of resumed talks under the auspice of the US would be "at risk." A spokesman for Mr. Netanyahu, who is visiting Washington for the annual meeting of the pro-Israel lobbying group AIPAC and talks with President Barack Obama, told reporters that the Palestinian demand was "illogical and unreasonable" and could "put the peace negotiations on hold for another year."
---