Lights go out as Earth Hour hits: A threat to the NCAA basketball tournament?
(Read article summary)
More than 100 countries will turn out the lights on March 27 for Earth Hour, casting normally illuminated icons such as Sydney's Opera House and Beijing's Birds Nest into darkness. But expect the NCAA basketball tournament to stay on TV.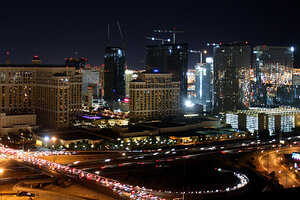 Isaac Brekken/AP
Earth Hour, otherwise known as your magical look into what Armageddon might look like, hits tomorrow as 125 countries around the globe turn out the lights at 8:30 pm local time to raise climate change awareness.
To the chagrin of basketball fans, that's about the same time West Virginia heads into the final minutes against Kentucky for their "elite eight" game of the NCAA basketball tournament.
But if you absolutely need to keep the television turned on for the game, rest assured that you're in good company.
"I'd be happy to participate," says William Hogan, Harvard's Raymond Plank Professor of Global Energy Policy, who was unaware of Earth Hour until a conversation today with the Monitor. "I'm just trying to determine if it's going to happen during the NCAA tournament. But it's turning off the lights, right? Not the TiVo."
---