Central American Parliament wonders who's the legitimate president of Honduras?
(Read article summary)
The turmoil surrounding Honduras President Manuel Zelaya's ouster has mostly died down. Now the Central American Parliament is debating if he or the interim president should fill Honduras's seat on the regional body.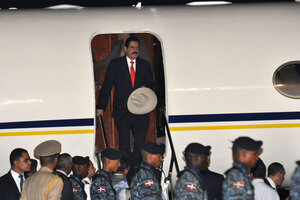 Reynaldo Brito/AP
When former Honduran President Manuel Zelaya was forced out of office last June, nations and regional bodies around the globe were suddenly embroiled in the politics of the oft-forgotten Central American nation.
Nations swiftly cut off contact with the government of Roberto Micheletti, who was sworn in hours after Mr. Zelaya was flown out of Honduras. The Organization of American States (OAS) condemned the coup and kicked Honduras out of the group. For weeks, it seemed, Zelaya had more allies than he ever dreamed possible while in office. He continued to claim his rightful spot to the presidency, while Mr. Micheletti claimed his. And effectively, there were two presidents of Honduras.
And then suddenly there was just one. After months of drama that built up around rival protests and arrests and some tragic incidents, new presidential elections were held in November, a new president was sworn into office in January, and Zelaya peacefully, and this time by choice, slipped out of Honduras to take up exile in the Dominican Republic.
Many countries in Latin America continue to question the legitimacy of the new administration of Porfirio Lobo, because he was elected to office without Zelaya being restored to office first. But the battle of a dual presidency seemed to have ended forever.
Until now. A new crisis over who is the legitimate "former" president of Honduras is brewing in the Central American Parliament (Parlacen). The Inter Press Service reports Parlacen is struggling over which president should be granted rightful membership.
---