Does Moscow subway bombing mark the return of the black widow?
(Read article summary)
Russia alleges two Chechen women carried out Moscow subway bombing that killed at least 38 people. If that allegation proves true, it will mark the return of the black widow suicide bombers.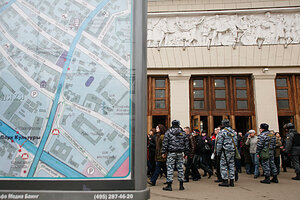 Pavel Golovkin/AP
If Russia's security services are correct in blaming two Chechen "black widows," or female suicide bombers, for attacks that killed almost 40 people on Moscow's crowded metro Monday morning it represents the return of a nightmare that Kremlin thought it had ended years ago.
The use of women to strike civilian targets was pioneered a decade ago by Chechen warlord Shamil Basayev, who was seeking a way to smuggle explosives past Russian checkpoints at the outset of the Kremlin's second war to subdue separatist Chechnya, say security experts.
"Basayev started up a 'martyr's brigade' comprised of women, who proved very successful in killing Russian officials and destroying administration offices," says Andrei Soldatov, editor of Agentura.ru, an on-line journal that focuses on Russia's security services.
IN PICTURES: Moscow Metro bombings
"After Basayev was killed by Russian forces in Ingushetia in 2006 we were told that the martyr's brigade had been disbanded," says Mr. Soldatov. "Some rebel websites have since claimed that it was resurrected, but only now do we see clear evidence that it's back."
The women, who call themselves "shakhidy," or martyrs, are typically the widows or mothers of Chechen men who've been killed by Russian forces.
"Chechen society is very hard for women who've lost their menfolk, or who have no breadwinner, and they become vulnerable to recruitment," says Soldatov. "There are potentially very many such women in the north Caucasus at the present time."
---