Wikileaks releases video depicting US forces killing of two Reuters journalists in Iraq
(Read article summary)
Wikileaks, a nonprofit website, has released video from 'military whistleblowers' that appears to depict the 2007 killing of two Reuters journalists and nine other Iraqis. The US military had said at the time they were 'hostile' forces.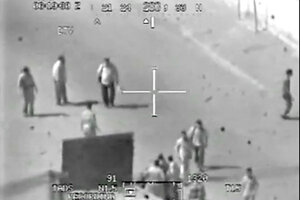 Youtube screen shot
A video released on the Internet Monday by WikiLeaks, a small nonprofit dedicated to publishing classified information from the US and other governments, appears to show the killing of two Iraqi journalists with Reuters and about nine other Iraqis in a Baghdad suburb in 2007 that is sharply at odds of the official US account of the incident.
WikiLeaks said the video was from the camera gun of one of two Apache attack helicopters that participated in the incident. The group said the video, with an audio feed between the helicopter's crew and other US forces, was provided by "military whistleblowers" but didn't elaborate further.
"WikiLeaks goes to great lengths to verify the authenticity of the information it receives," wrote the group, which has a yearly budget of about $600,000 and is funded by human rights campaigners, investigative journalists, technologists and the general public, according to its website. "We have analyzed the information about this incident from a variety of source material. We have spoken to witnesses and journalists directly involved in the incident."
The group, which does not list the names of anyone involved with the project, didn't elaborate further on its sources. Reuters did not confirm if its two employees are among the dead show in the video, saying it needs to investigate further.
"The deaths of Namir Noor-Eldeen and Saeed Chmagh three years ago were tragic and emblematic of the extreme dangers that exist in covering war zones," said David Schlesinger, editor-in-chief of Reuters news, in a short statement. "The video released today via Wikileaks is graphic evidence of the dangers involved in war journalism and the tragedies that can result.
---