'Oriental Yeti' found in China is no Yeti
(Read article summary)
Photos of what Chinese trappers call an 'Oriental Yeti' show what appears to be a big cat with mange. Bigfoot researchers are worried that the hype discredits real yeti research.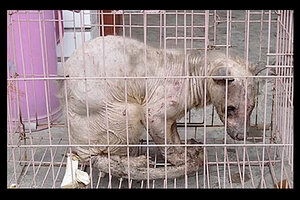 Screengrab via YouTube
Hunters in central China have trapped a strange-looking beast dubbed the "Oriental Yeti," though one of the world's preeminent Bigfoot experts says the animal in question is no Yeti.
Anybody whose seen the movie "Harry and the Hendersons" (or episode 13 in the third season of "30 Rock") could tell you that.
"This is not a true yeti. This is more media madness," says Loren Coleman, author of more than 30 books on mythical creatures, including "Bigfoot! The True Story of Apes in America" published by Simon and Schuster.
Photos today show a four-legged, thick-tailed, hairless animal caught in Sichuan province, reports The Telegraph. The mystery beast is now being sent to scientists in Beijing for DNA testing.
"It looks a bit like a bear but it doesn't have any fur and it has a tail like a kangaroo," one of the Chinese hunters said. "It also does not sound like a bear – it has a voice more like a cat and it is calling all the time – perhaps it is looking for the rest of its kind or maybe it's the last one?"
---