Giant lizard discovery underscores threats to Philippine forests
(Read article summary)
A new species of 6-foot-long lizard has been discovered in the Philippines. But its habitat is quickly fading because of deforestation.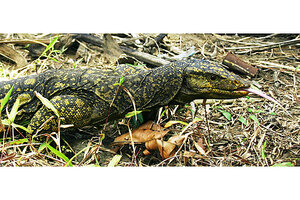 Joseph Brown/University of Kansas/Reuters
Researchers say a new species of giant lizard discovered in the Philippines is a reminder of the biological richness of a vanishing jungle. Rapid deforestation in the country is dimming hopes for uncovering other animals still undocumented, scientists note.
The new species was discovered last summer on the main island of Luzon, when US researchers on a field trip purchased a unique-looking lizard carcass from a Philippine hunter for a few pesos.
"The hunter had caught it accidentally in a snare for wild pigs. We saw he had it and we were able to bargain with him for it," says Luke Welton, one of the authors of an article published today in the peer-reviewed Royal Society journal Biology Letters announcing the finding.
Welton says he and fellow researchers from the University of Kansas and the Philippine government immediately knew this lizard was unique. It had longer nostrils, a golden coloration, and an uncommonly large size. The 22-pound, 6.5-foot-long Northern Sierra Madre Forest monitor lizard (Varanus bitatawa) feasts on fruits and snails and not meat, as do most species of monitor lizard and the close related Komodo dragon.
---