Kyrgyzstan coup: Bakiyev inching closer to leaving the country
(Read article summary)
President Kurmanbek Bakiyev, pushed from power in the Kyrgyzstan coup last week, is nearing a deal to allow him and his family to leave the country, cooling concerns of further violence in the Central Asian nation, according to media reports from the capital Bishkek.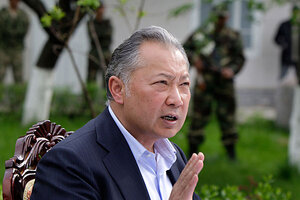 Sergei Grits/AP
It appears that ousted Kyrgyzstan President Kurmanbek Bakiyev – who fled the capital Bishkek for the south of the country after violent street protests against his rule led most of the military and police to turn against him – is inching towards taking the Marcos option.
Like the former Philippines dictator who fled his homeland in the wake of a rigged election that led to an outpouring of protests and an abandonment by the country's military elites, Mr. Bakiyev appears out of options following the Kyrgyzstan coup. The 2009 election that delivered him 76 percent of the vote was widely seen as rigged – even by the US, a close ally – and public fury was soon unleashed against his government due to a declining economy and a belief that he was stealing an ever larger share of the public purse.
The last straw was a rise in electricity rates, which generated outrage not least because the electricity company was controlled by a Bakiyev relative and fueled the riots last week that pushed him from power.
Yet last week he remained defiant, insisting that he remained Kyrgzstan's president and dismissing the interim government led by Roza Otunbayeva as illegal. But over the weekend the interim government began to take an aggressive stance to the president – lifting his immunity from prosecution and speaking of the need to examine the extensive business empire of his friends and family. In response, Bakiyev has appeared to change his tune.
---